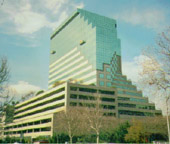 Waterproofing Engineering Technologies has been providing top-notch products, great customer support and prices that can't be beat. For more than twenty-five years, W.E.T. has been the industry leader by incorporating new and innovative materials and technology into its products. Additionally, Wet has practical hands on field experience to know how the products can be best used to solve a variety of waterproofing problems. When you use any of the extensive line of W.E.T. products, you can be assured of professional results. Below is a listing and brief description of the products. To learn more about any of them, click the buttons above (on any page) to go to the specific product. There you will find buttons to take you to the feature page and the technical data sheets for the product.



CONCRETE SEALERS
1000 CONSEAL - Permanent Penetrating Concrete Sealer for new or existing concrete on grade or below grade.
1010 CONSEAL - Moisture Barrier & Degreaser for cleaning, sealing and disinfecting new or existing concrete.
1050 CONSEAL PRIMER - Primer for porous building materials such as concrete block, shotcrete or gunite.


MASONRY and STUCCO SEALERS
2000 MA/CON - Clear Penetrating Surface Sealer for above grade masonry of all types.
2200 STUCCO SEAL - Clear Penetrating Sealer for above grade cement based plaster and stucco.

SPECIALTY PRODUCTS
3120 ADMIXTURE - Bonding Additive for mortar mixes, cement plaster & stucco and Super Plaster.
3200 KON-CURE - All Purpose Curing Agent for newly placed concrete.
3700 E-4-CLEAN - Cleaner for concrete, masonry, stucco and metal.
3755 METSO-CLEAN - Degreaser and Cleaning Concentrate for cleaning hard surfaces.


ELASTOMERIC MEMBRANE MATERIALS
4100 MEMO-RE-FLASH - Fluid Applied Elastomeric Membrane and Flashing material.
4400 MEMO-RE-PRIME - Asphaltic Emulsion Primer to prepare substrates for Memo-Re-Flash.
4500 MEMO-RE-MESH - Reinforcing Fabric for Elastomeric Membranes and Flashings


ELASTOMERIC COLOR COATINGS
6000 COLOR SEAL - Elastomeric Color Coating for stucco, synthetic stucco and masonry.

6010 COLOR PRIME - Acrylic Primer for concrete, masonry and questionable substrates.
radon gas, radon mitigation, black mold, black mold remediation, basement waterproofing, concrete sealers, brick sealer, block sealer, penetrating sealer, water repellent, stucco sealer, radon seal, radon sealer, radon bloc, radon mitigation and waterproofing concrete sealer, concrete sealer for concrete, radon mitigation made easy, concrete radon mitigation