DEGREASER AND MOISTURE BARRIER
THE ULTIMATE FOR DEEP CLEANING, WATERPROOFING AND PRESERVING

The ultimate for deep cleaning, waterproofing
and preserving new or old concrete

ENVIRONMENT AND USER FRIENDLY


In addition to the constituents found in CONSEAL 1000, the CONSEAL 1010 contains enzymes, surfactants, detergents and retarders specifically formulated to enable the material to penetrate deeply into the stained concrete and emulsify and float the contaminants to the surface.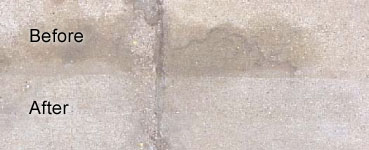 The bottom half of this area was first cleaned with
METSO-CLEAN 3755 and then sealed with CONSEAL 1010.

Forms an occlusive seal to resist further such penetrations


Treated concrete resists acid, alkali grease, oil and salt attack


Minimizes surface dusting, pitting, spalling and hairline cracking


Stops capillary action of the concrete


Non-toxic and nonflammable


Increases bonding strength and durability of subsequent application
of poly-vinyl & latex based paints and other coatings and flooring
adhesives


Before applying CONSEAL 1010 to heavily soiled concrete, such
deposits should be removed with METSO-CLEAN 3755. This will
enable the CONSEAL 1010 to get to the concrete surface so it can
penetrate.


Do not expect overnight results. It probably took a long time for the
stain to get there in the first place, so it will take some time for the
CONSEAL 1010 to get it out.

CLICK HERE TO VIEW TECHNICAL DATA SHEETS.


CLICK HERE TO VIEW FREQUENTLY ASKED QUESTIONS (FAQ's).