"THE VERY BEST IN SEALERS FOR MORE THAN 30 YEARS"
RADON MITIGATION - BLACK MOLD REMEDIATION
  BASEMENT WATERPROOFING - CONCRETE WATERPROOFING
CONCRETE SEALERS and CONCRETE BLOCK SEALER
MASONRY & BRICK SEALER - STUCCO SEALER and CLEANERS
ADMIXTURE for STUCCO, PLASTER, MORTAR AND PATCHING MIXES
MEMBRANE WATERPROOFING and ELASTOMERIC COATINGS
    Whatever your waterproofing problem...... WET has a "solution".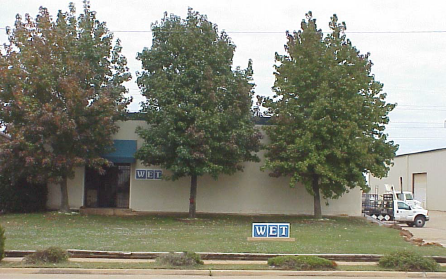 WET has the technical expertise and years of practical experience to provide state of the art, proven products. All of our products contain proprietary ingredients which cannot be identified by other companies that claim to have equal products. WET products have been imitated; but, never duplicated. Quite simply, we put more into our products, so you get more out of them. Our products work better.... and we have the references to prove it.
1000 CONSEAL - Penetrating Permanent Concrete Sealer and Concrete Block Sealer
1010 CONSEAL - Penetrating Concrete Sealer With Emulsifiers and Degreasers
1050 CONSEAL PRIMER - Primer for Porous Concrete or Concrete Block
2000 MA/CON - Penetrating Surface Sealer - Brick Sealer - Masonry Sealer
2200 STUCCO SEAL - Stucco Sealer - Plaster Sealer
3120 ADMIXTURE - Bonding Additive for Mortar, Stucco, Plaster and Patching Mixes
3200 KON-CURE - All Purpose Concrete Curing Agent - Plaster Curing - Stucco Curing
3700 E-4-CLEAN - Concrete Cleaner - Masonry and Brick Cleaner - Metal Cleaner
3755 METSO-CLEAN - Degreaser and Cleaning Concentrate
4100 MEMO-RE-FLASH - Elastomeric Waterpoofing Membrane and Flashing Material
4400 MEMO-RE-PRIME - Asphalt Emulsion Primer
4500 MEMO-RE-MESH - Reinforcing Fabric for W.E.T. Membrane Waterproofing
6000 COLOR SEAL - Elastomeric Color Coating for Concrete, Masonry and Stucco
6010 COLOR PRIME - Acrylic Primer for Concrete, Masonry or Stucco
CONCRETE SEALERS, MOISTURE BARRIER, DEGREASER SEALER, BRICK SEALER, MASONRY & BLOCK SEALER, STUCCO SEALER, DRIVEWAY SEALERS, CONCRETE CURING AGENTS, PLASTER, STUCCO & PATCHING ADMIXTURE, MASONRY & BRICK CLEANER, GREASE & OIL REMOVER, MEMBRANE WATERPROOFING, ELASTOMERIC COATINGS

Click here to view the Terms of Use for this website. Use your Browser Back Button to return to this page.